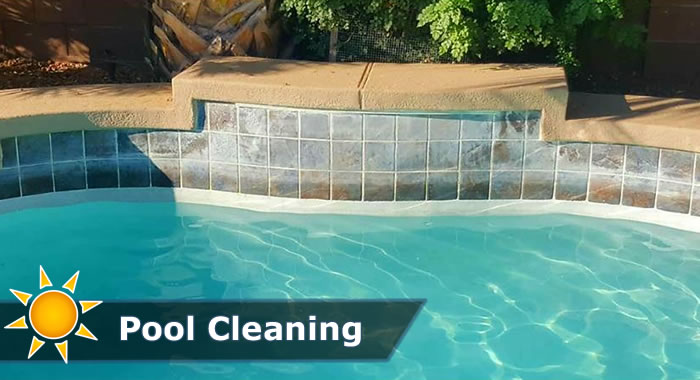 Pool Cleaning Services Maricopa County AZ
We specialize in draining and cleaning pools!
At Arizona Pool Drain we take great pride in our pool cleaning process. First, we make sure we have all the necessary permits needed based on your area to legally drain your pool. Each area in the Phoenix Valley has their own "unique draining codes" that must be followed.  The last thing Arizona Pool Drain wants is our customers to have problems with that part of the process. Then, and only then we begin our own "unique process" for our signature 2 hour pool drain (for the average sized pool).
If you ordered a pressure wash with the pool drain we are in the pool with our pressure washer using the right pressure to insure that the surface of your pool, whether it be Plaster or Pebble Tec will not be disturbed. We are in the swimming pool constantly pressure washing until the pool is completely drained.
If you have a green pool we will always recommend our chlorine wash. Arizona Pool Drain uses a special blend of chlorine and brighteners to give our customers the best job possible. Ordering our chlorine wash will insure that your pool is completely sanitized.
If you ordered our Tile Cleaning Service with you pool drain and cleaning we are in the pool with our special "Maxx Tile Clean System" cleaning the tile as the pool drains. Maxx Strip costs more to use because of the media cost but the benefits far outweigh the cost and gives our customers the option of cleaning "VERY DELICATE TILE" without pitting or harm to the tile that some of the other processes like "glass beads" can cause. Here are just some of the benefits of our Maxx Clean System:
Our method uses Mineral Salts which are:
Safe For People
Safe For Pets
Safe For Plants
Other Methods Use: Glass Beads or Crushed Glass Causing:
Inhalation Danger
Slip and Fall Danger
Damage To Pumps and Sweepers
Definite Permanent Damage to Tile Glaze
If you only want your tile cleaned we simply drain your pool 8 inches below the tile line and clean the tile. We then use our "unique" Maxx Clean Recovery System to vacuum and filter out the used media.
Everything Arizona Pool Drain has mentioned can be accomplished in "ONLY ONE DAY" which is really great for our customers and their schedules. If any questions should arise please feel free to fill our "Request Service" page and Mary will get back with you promptly. Or simply give us a call.